The large numbers of grouse and other game birds in our area makes this any bird hunters paradise.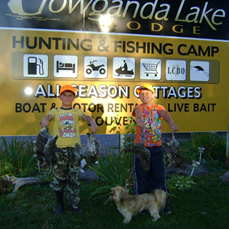 Grouse / Rabbits
Travel the hundreds of km's of bush roads and trails by foot or A.T.V for a relaxing day of sight seeing and hunting as trees come to life with their beautiful fall colours.
Ducks / Geese
With access to many lakes and river systems makes Gowganda a perfect area to find multiple species of ducks and Canadian geese getting ready to head south for the winter.
If you are looking for a perfect mix of fall hunting land and water come give Gowganda a try.
Non-Deluxe Housekeeping Cottage
$175.00 per day for up to 4 people
$30.00 per day per extra person, maximum 2
Deluxe Housekeeping Cottage
$190.00 per day for up to 4 people
$30.00 per day per extra person, maximum 2
Lodge (Deluxe 4 Bedroom Cottage)
– $250.00 per day for up to 8 people
– $30.00 per day per extra person, maximum 2
Prices are quoted in Canadian Funds and do not include taxes and Licences